This was a pretty big day states-wise, if only average, mileage-wise. I slept through my 5:30am alarm but the 6am backup got me out of bed. I made some coffee, showered, packed and was on the road by about 7. DC itself took nearly an hour to get out of. Was it worth it to stay in the Capitol? No. Do I regret it? No. It was a good stop on this sort of trip, I think.
I relied heavily on my GPS units on this leg. Moving from DC through Philly and into New York? Holy shit that's a dizzying number of options. I just trusted the satellite guidance and still made several mistakes. The hardest thing was the toll situation. It started (I think) in Baltimore, although it may have been circumnavigating Philly. I ended up going through a toll booth that didn't take cash and probably didn't recognize my FasTrack transponder. Unlike toll roads later in my day, there were no signs for calling and paying later (at least that I saw). I ended up pulling over and signing up for EZPass on the spot. At least my plate and billing info are in the system, now. Which hopefully will cover my mistake in ending on the lower George Washington Bridge level, which doesn't take cash, versus the upper level, which does. Sigh.
But I'm getting ahead of myself. I headed out of DC and into Maryland. While I started on the turnpike, I had to skirt around the tollbooth (which didn't take cash) because I hadn't caved and sent up EZPass yet. That detour took me through Maryland horse country, over a dam that seemed to be a tide-control unit for an inlet, and a small port town. It was great, and I didn't regret the extra half-hour to take the detour.
Back on the turnpike I burned right through Delaware and into Pennsylvania and then New Jersey. That's a tight little junction there, with Philadelphia dominating the area. After that it became a game of hide and seek with New York City. I came across from New Jersey on the George Washington Bridge, then through (I think) Manhattan. At some point I came back out into Connecticut. I may have passed through Jersey again, but it was really hard to differentiate between anything at this point. It all looks the same to me.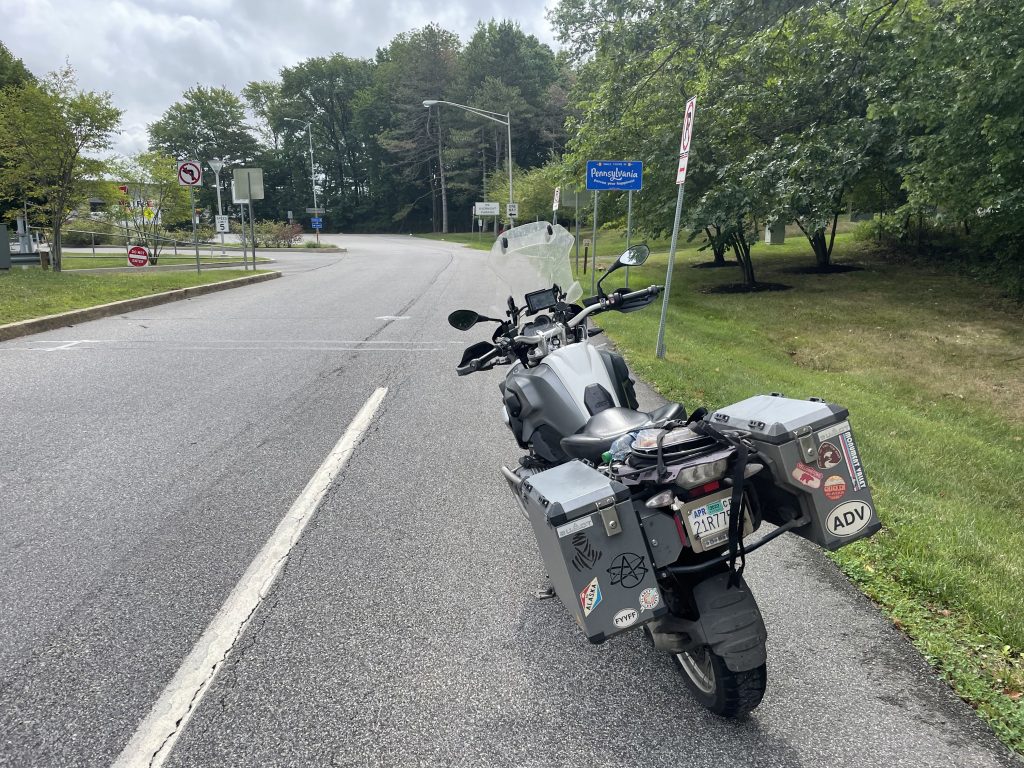 The traffic in NYC was predictably terrible. What was surprising was the incessant stop-and-go traffic as I cruised along the south coast of Connecticut. Sure, Stamford is certainly an NYC suburb, but the traffic just never seemed to ease up until New Haven. After that I curved north towards Massachusetts, detouring just a bit to dip into Rhode Island for a mile or two. Since Boston was going to be a major traffic issue, I tried to stay east of Rhode Island as I headed up to Maine. This route took me through Worcester, which had it's own traffic issues (although certainly less than Boston's). After slogging through that mess I was free to head east with a northern trend to Maine.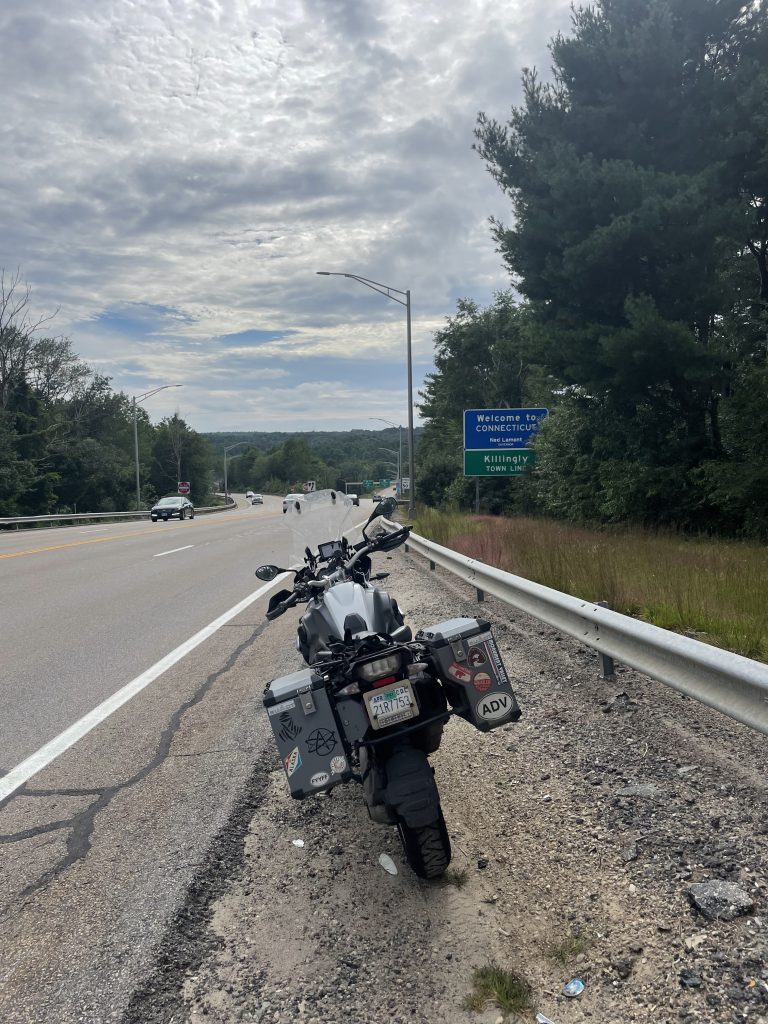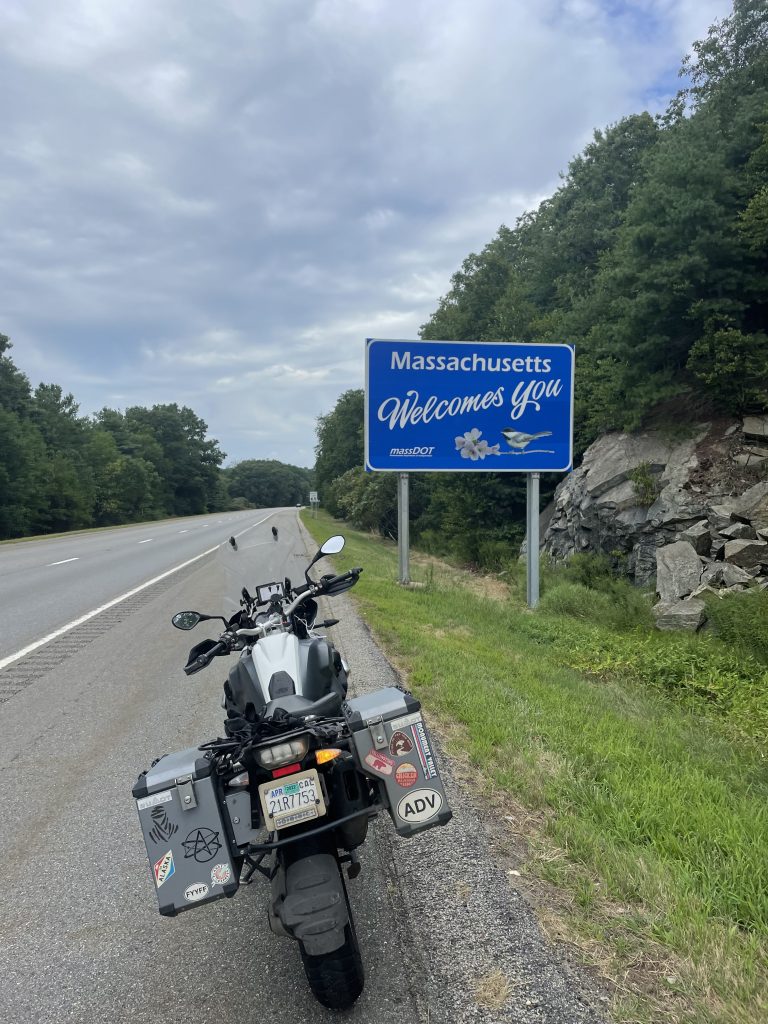 As I was nearing the end of this trip I saw the town name of "Billerica" slide by on the GPS. This was the town where I lived for a good part of the summer I spent working in Massachusetts in college. I detoured off the freeway to see if I could find my very first solo living quarters. Sadly, no. I found that I hardly remembered the town at all. I remembered one landmark to guide me to my old home, but it seems to have been lost to the mists of time. I consoled myself by taking a picture of a building that caught my eye, even though I didn't remember seeing it in 1989.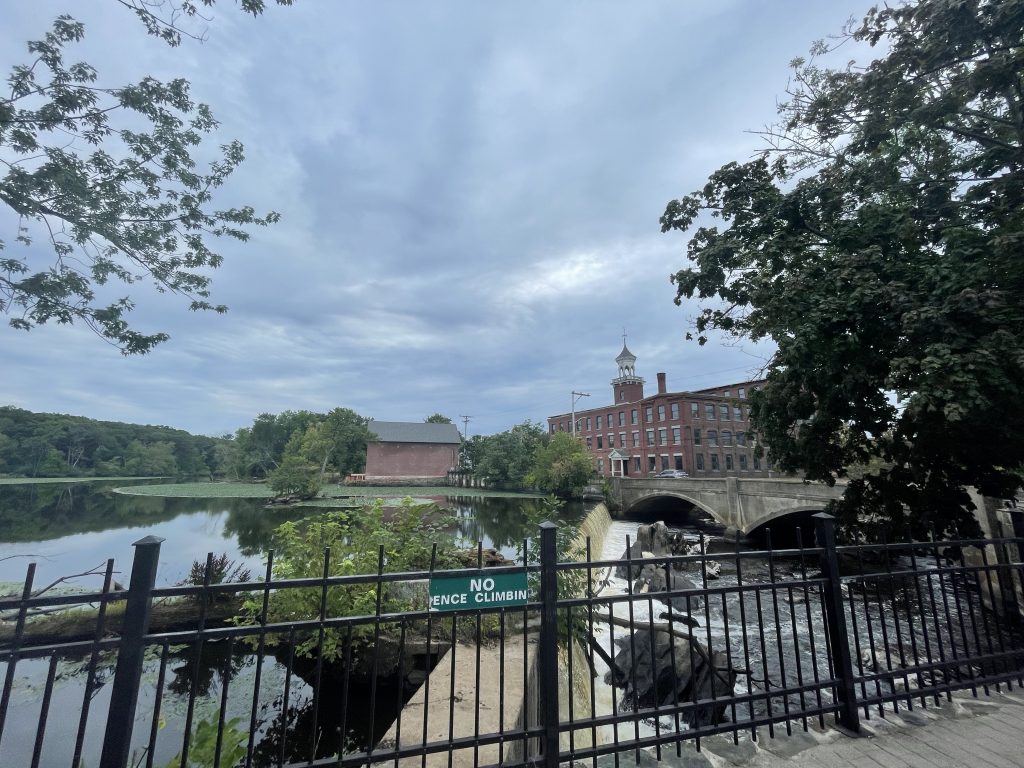 I blasted past New Hampshire and landed in Kittery, Maine. The Welcome to Maine sign was suspended mid-bridge, which I failed to capture. And the New Hampshire sign was off the side of the turnpike and I blew past it. I'll try to rectify those tomorrow, but I'll likely be on a tight schedule. I'm shooting for Cleveland by avoiding interstates where possible (while maintaining a reasonable riding time for the day. I'm trying to keep things right about 12hrs in the saddle max, mostly because of available light. I may squeeze out an extra hour or two as I head back west.
I landed at the least charming AirBnB in history. It's a room in someone's condo, and she seems unhappy that it's being rented out…by her. Luckily all I do is blog, sleep, shower, pack and leave. Should be good enough for that… I hope.
Regardless, progress was made today. I checked off no less than 10 states today. I also reached the eastward and northward limits of my travels. Everything now is downhill, heading to the wide-open ranges (and roads) of the west, then home. I've turned the corner on this coast, in other words.
Starting Mileage: 58114
Ending Mileage: 58685
Daily Mileage: 571