Anchorage to Seward and Back
Having swapped a 5hr ride to Homer for a 2hr ride to Seward as our last trip, we had plenty of time to get there and back before dinner with Paul's family. So we got a super-late start…at about 11am or so.
It was nice to wake up in a real house for a change. It felt much more…grounded?…than the usual motel shuffle we've been doing for the last several weeks. I woke up initially to a familiar-sounding explosion of noise as Paul's grandniece ran into his room to get his lazy ass out of bed. Being unrelated and, thus, uninteresting, my lazy ass rolled over and went back to sleep. Anonymity rocks!
I showered, thought about shaving just so I'm not mistaken for a Sasquatch or an oddly-handsome bear when I go out amongst these wilderness dwellers, but decided to take my chances. I wandered downstairs towards the kitchen, but heard the sound of Granduncle Paul hard at work being granduncle-y, so I went out to take care of some stuff with my bike instead.
My main task for the day was to set up my tent, just in case it was needed for my trip back (however unlikely that is). I hadn't gotten around to assembling it before we left, so it's been a bit of an open question. I grabbed the tent and my camping gear from the saddlebag they've been living in, unmolested, and brought the bunch inside.
It was about now that I drew the attention of the grandniece. The first I saw of her was this cartoony swirling cloud of activity, kinda like the Tazmanian Devil. She spun over to me, grabbed my hand and dragged me bodily into the back yard. I held her attention for about five minutes, in which she:
Set up my tent (it worked!)
Picked raspberries for me to eat (tasty)
Showed me a giant spiderweb by the raspberry bushes
Showed me how high she can swing
Showed me her Iron Cross move on the rings
Fed me some "stone soup" (which had no stone in it, oddly, but did have rose hips, green apples, groundwater, and various twigs. Oh, and a dash of cumin (genius!))
Played legos with me. She was the fairy and I was the mermaid
Told me how old she is (6)
Taught me how to spell her name (G-R-A-C-E)
Told me about the barbecue she was going to today (she brought pasta salad)
Went over her chore list
Read a book
Discussed the geopolitical ramifications of Israel's aborted attempt to exclude two US congresswomen (okay, I made that last one up, but only because she probably didn't want to confuse me with discussion about such a complex issue)
I somehow escaped her clutches by pawning her back off on Paul. I think I wandered off to take a nap. I was exhausted.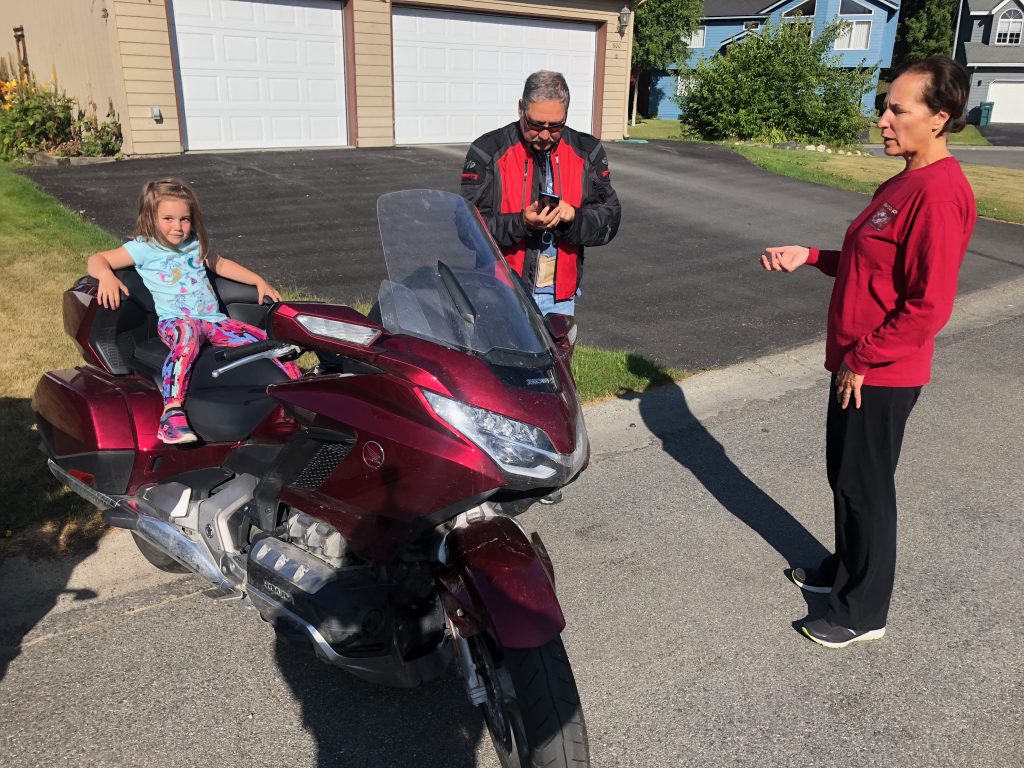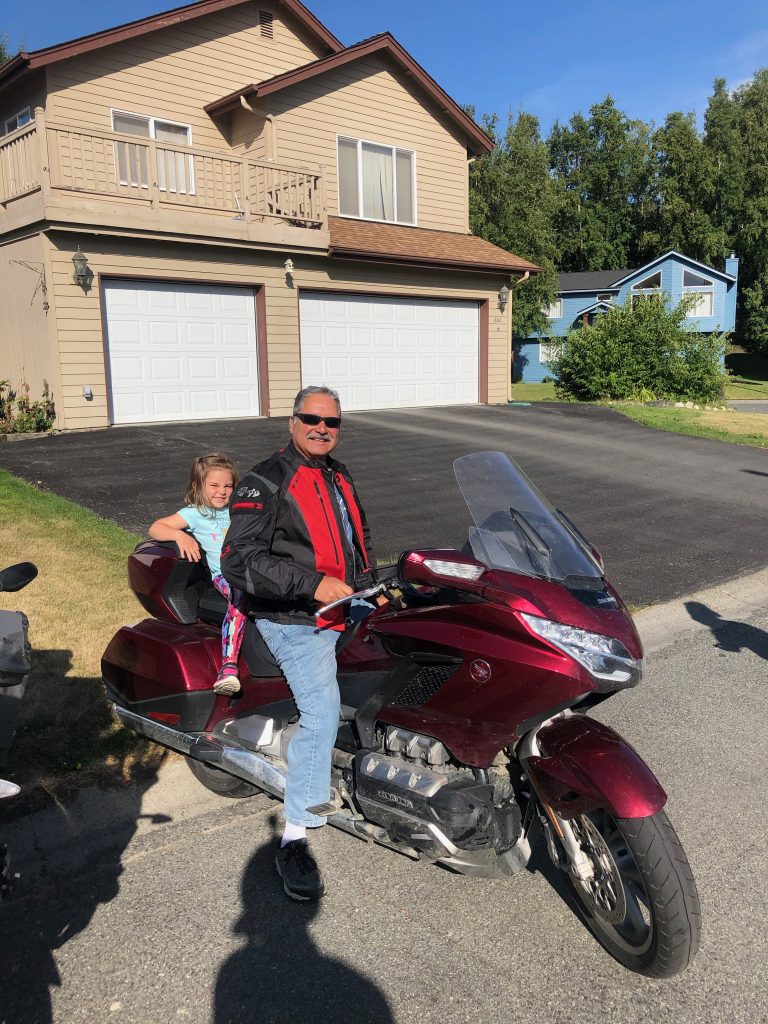 When Paul was able to briefly escape from her swirl of activity he grabbed me and practically dragged me to the bikes. He knew he had to get out of there soon or he'd be deep in his own grandpa-nap and done for the afternoon. We hit the road for Seward soon thereafter.
The road to and from Seward was pretty spectacular. It starts out at sea level, following the coastline outside of Anchorage for about an hour (past Turnagain Arm, which hosts the fantastically-named Turnagain Arm Pit BBQ). The road then climbs a bit over a short pass and drops onto the Kenai Peninsula. On the way it passes by and through a series of spectacular jagged peaks and several ice fields. We (of course) stopped to take pictures of the ice, but I was able to keep Paul moving towards Seward with promises of beer.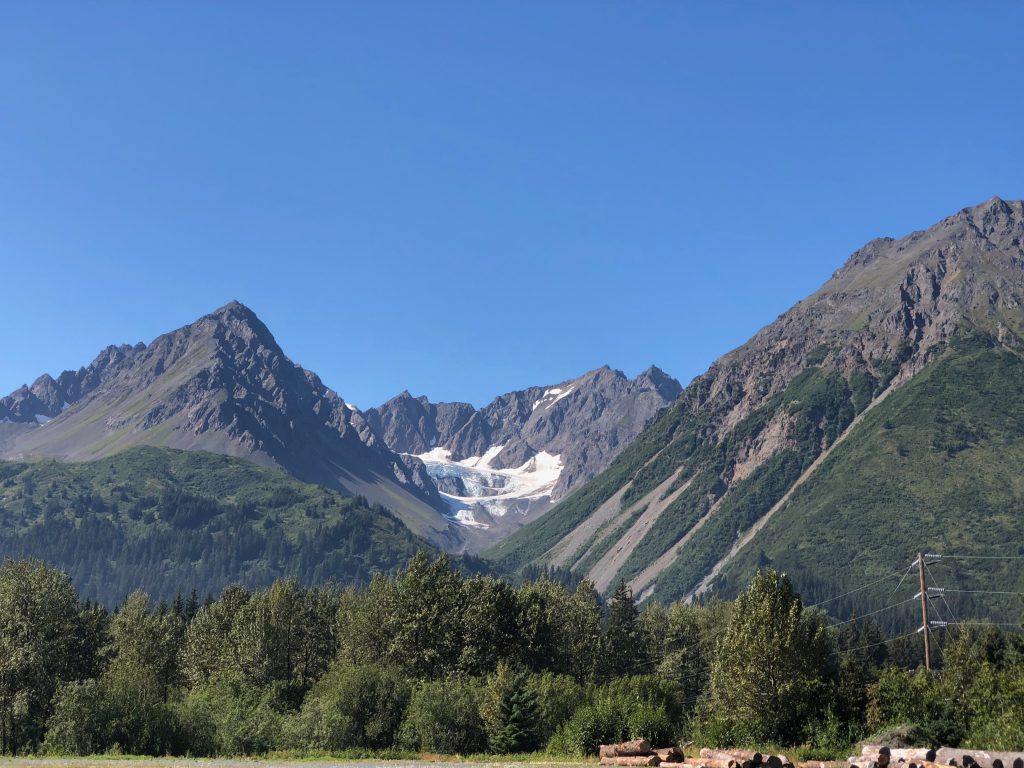 We cruised through the town, then headed straight to Ray's, a restaurant recommended by…Sheryl?…Cheryl?…well, Paul's niece. Unlike her daughter, she didn't teach me how to spell her name within minutes of meeting her. I hadn't realized it before, but that's a pretty useful practice. Maybe I'll work it into my professional life.
ATTORNEY: Good morning your honor. I'm Jeff. That's J-E-F-F! I'm 49!
THE COURT: …okay…
JEFF: Could the record reflect that I'm holding up my fingers to confirm that I am, in fact, forty-nine?
THE COURT: um. The record will so reflect, I guess.
JEFF: Do you have any juice?
THE COURT: We'll be in recess.
JEFF: Yay!
I think I'm on to something. Anyway, we'll call Paul's niece S/Cheryl, to avoid any misspellings.
Regardless, Ray's was great. Good food. Good service. We clinked our glasses to celebrate a successful trip and reaching the farthest point that we would make it to. It was a nice "end" to a great trip. After lunch we shopped for some souvenirs and hit the road back to Anchorage.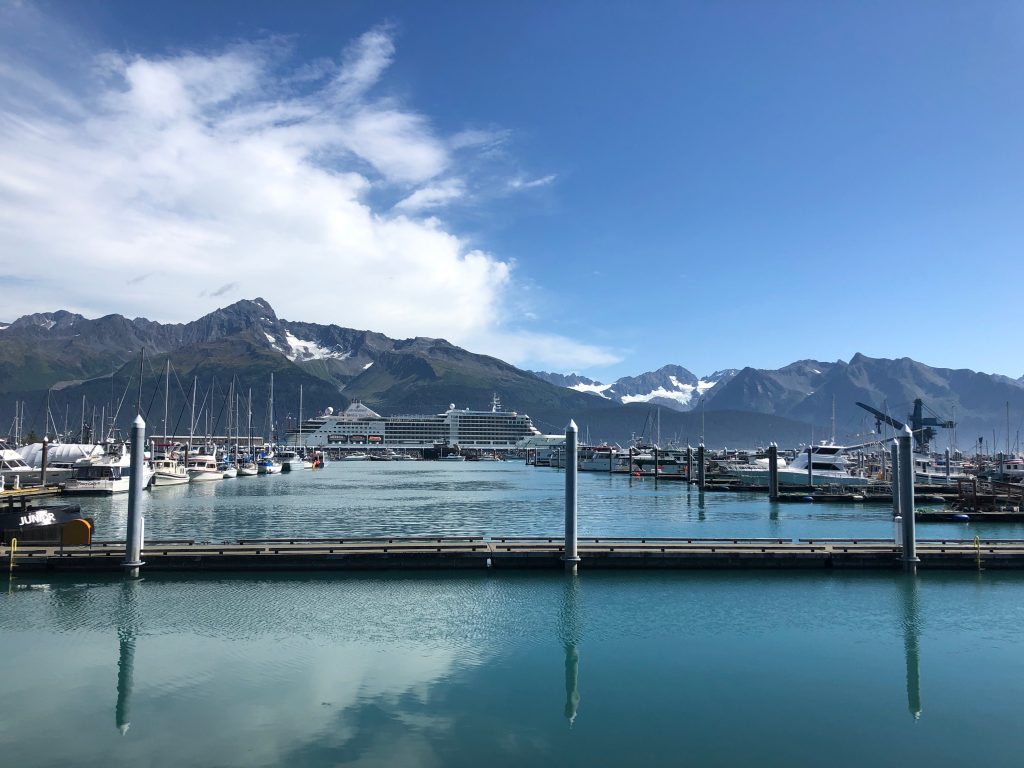 This is a good point to interject an observation about Alaska. The winter cold is dangerous. The wildlife is dangerous. Having Russia peeking in your bedroom windows at night is dangerous. But the most dangerous thing in Alaska? The drivers. They are fucking terrible, full stop. All of them.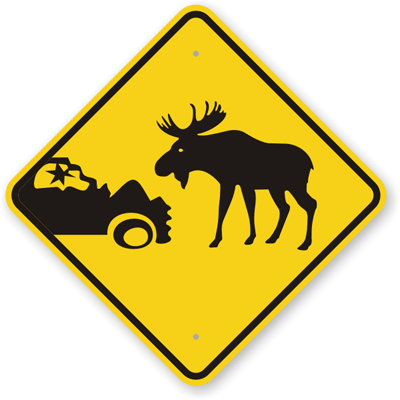 These drivers seem to have won their licenses in some sort of giveaway. They treat lane lines like a mere suggestion. The speed limit is apparently some sort of unattainable goal to them. "55mph? That sounds exhausting. How about 40…?" should be the state motto. We went through a roundabout and I'm pretty sure three or four people are still circling, waiting for their cars to run out of gas so they can finally give up. Seriously, on the off chance that you spot an Alaska license plate near you on the road, get some distance and (preferably) some heavy artillery between you and the offending vehicle. It's only a matter of time before they find their next victim.
After lunch it was back to Anchorage for us. I had intended to head out about this time for Tok (a 6 hour drive or so) to get a head start on the trip back. But geography, pleasant company, the promise of beer, and an enticing lamb sous vide for dinner persuaded me to stay one more night. (The geography was an issue because once you head down the road past Whitehorse, there's not much in the way of accommodations for hundreds of miles, anyway. So getting a jump on the road to Whitehorse wouldn't have helped much, just made that leg of the trip a bit shorter.)
We stopped and bought beer and wine to go with dinner. Then back to S/Cheryl's house, where she and her boyfriend Charles had prepped the lamb and some asparagus. What an amazing meal! Restaurant quality, at least, I must say. It was my first experience with home sous vide, and I'm sold. Good conversation, too. It was over all too soon, as S/Cheryl and Charles had to get up for work in the morning and couldn't stay up too late. Paul's sister Lori (or is it Laurie? What is it with these older Grech women not spelling their names for me?) had to get plenty of rest to prepare for Hurricane G-R-A-C-E in the morning, too. So we packed it in and called it a night. Good day.
Starting Odometer: 37,401
Ending Odometer: 37,658
Daily Total: 257
Running Total: 5,095