Dawson to Fairbanks to Denali
This was a loooooong day. Good though.
We rolled out of bed at some point and grabbed some breakfast at the hotel cafe. Then we started loading up the bikes yet again. With repetition this has gotten much easier, faster, and far more efficient. Because of this streamlining we managed to get on the road…at a little after 10.
We had stayed the extra day in Dawson for a couple of reasons. We both felt like a break would be nice after almost two straight weeks of pretty heavy riding. Also, Dawson was one of the first places that we'd been to in this phase of the trip that seemed to have some character to explore a bit. But perhaps most importantly, the Top of the World Highway between Dawson and Fairbanks is largely an unpaved dirt/gravel road. With the rains on Saturday night and into Sunday morning we were concerned that Paul's street bike with street tires would be in deep trouble on the slippery mud. The forecast for Sunday and Monday was clear and sunny, so the hope was that the extra day would help dry things out for us.
We gassed up on the way out of town. I noticed at the gas station that my rear suspension was not "preloading" the way it should. (Preload helps set up the suspension for the weight on the motorcycle, and I needed a lot of extra preload due to my bags and generally monstrous size.) This had happened once before and I used my IT skills to fix the problem, computer-style: I turned the bike off and on. This trick didn't work, so I set off on the first real test of my bike's suspension with said suspension in some sort of failure mode. Sweet.
On the ferry, off the ferry, past the hostel (holding up crucifixes and garlic in front of us as we passed), and on to the Top of the World. In short, our plan worked! The road was dry and smooth, and the 'wing glided through it with ease, although our speed was slower than usual. We stopped at a turnout to take a picture and I took the opportunity to diagnose my shock absorber. With my primary tool (restarting the thing) not working, I tried my second most effective tool: a good stern look. I stern-looked that shock like no shock has ever been sternly looked at. I got back on the bike, fired it up, and…preload city! It is a fine stern look, but the power of it surprises even me at times.
Onward through the dirt and gravel with hardly any other traffic to interrupt the scenery. After a few hours or so we got to the border and jumped through their hoops. I asked if the road was paved the rest of the way and got a hearty laugh. Nope. And, in fact, it's in significantly worse shape than the Canadian side of things. Paul and I were both feeling a bit more confident and the pace picked up a bit for awhile.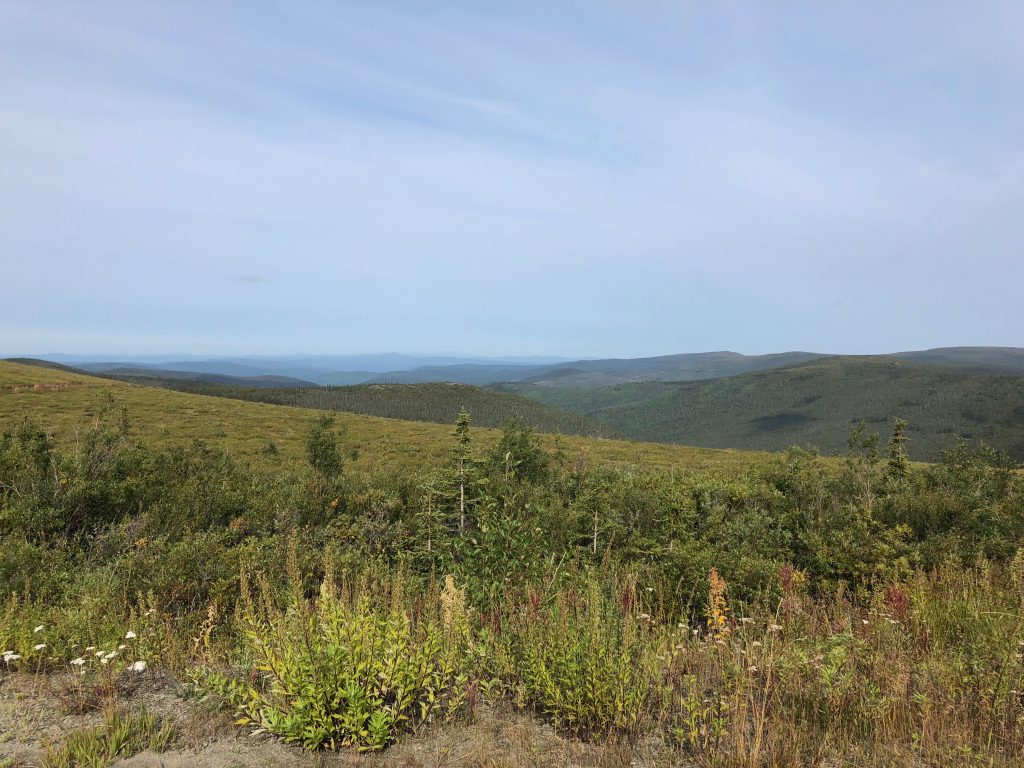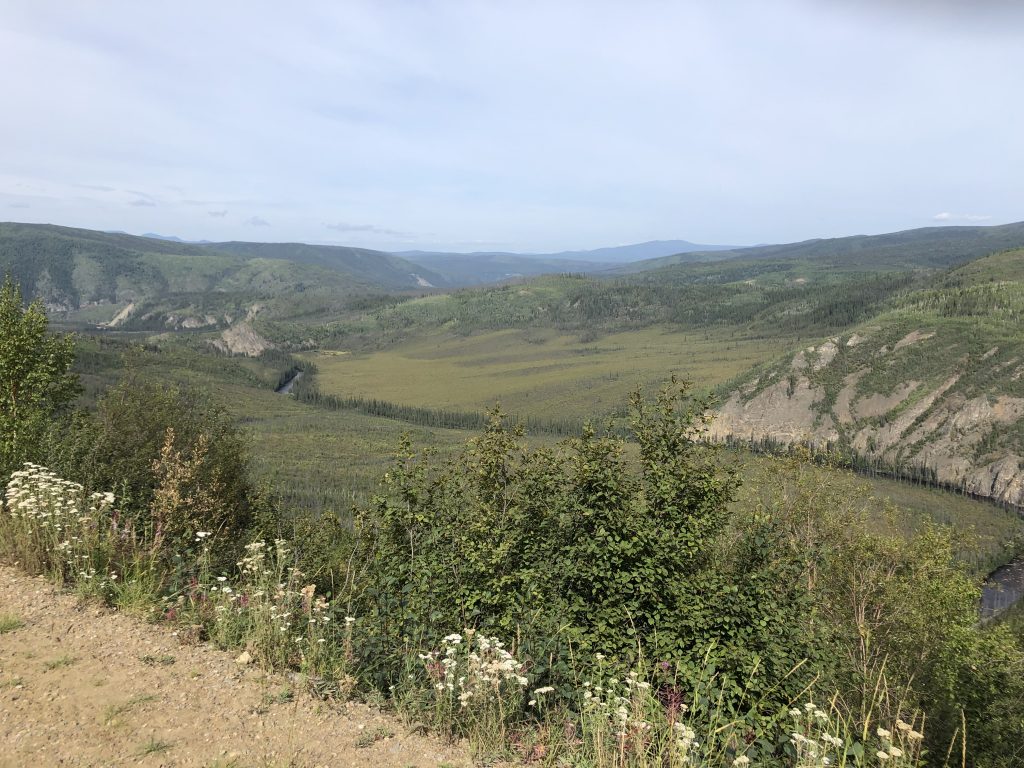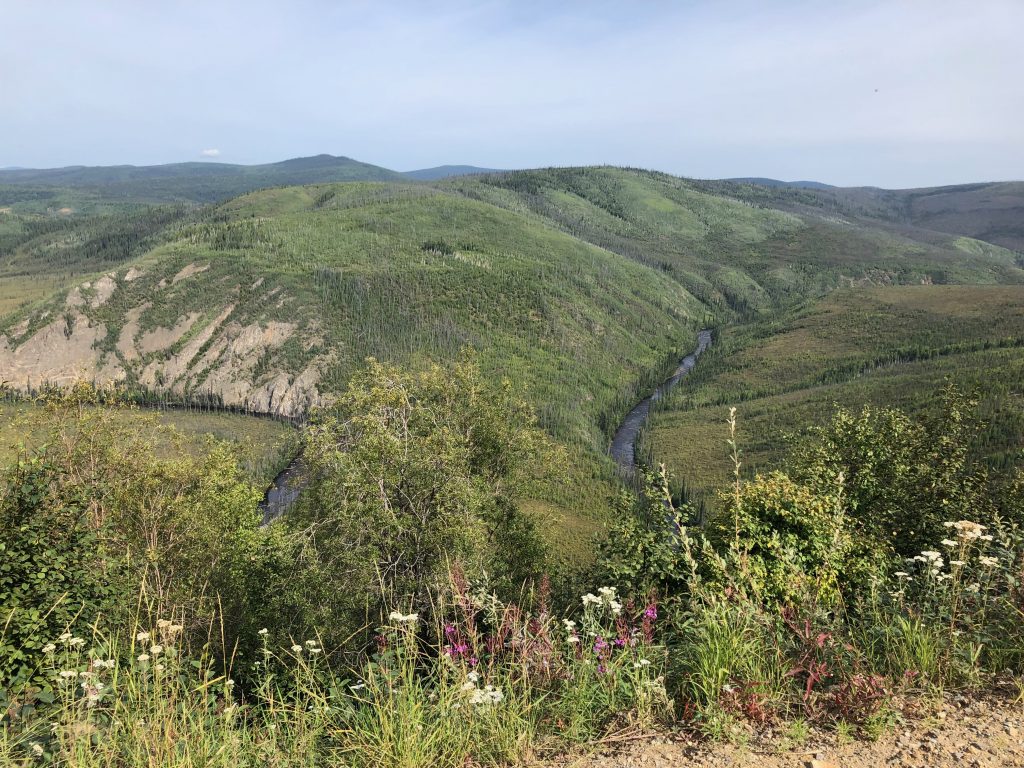 We stopped along the highway in a town called Chicken, which is predictably a bit of a tourist trap. A bit of shopping, a trip to "the only flush toilets in Chicken" and we were off.
We slogged a bit through the remains of the largest forest fire we'd ever seen and eventually ended up back on the Alcan Highway, about 1,400 miles from where we'd started on it in Dawson Creek. It felt odd to be on a major road again, but the absence of traffic helped ease the shock. At a city called Tok we pulled in to get gas and were instantly surrounded by All Of The Bugs. Bees, wasps, mosquitoes, gnats. Hell, I think there was some species of flying dog in the mix. It was weird. And then we noticed that the whole place had a Deep In Appalachee feel to it. Bugs? Hillbillies? Screw this place, we're rolling.
As we cruised through the first large Alaskan town I spotted a sign lettered with red and gold goodness: "Wells Fargo!" I yelled into the intercom. We pulled in and 10 minutes later I had a temporary ATM card to replace the one from my wallet. Heaven. While I got my cards, Paul booked a room for the night in Fairbanks. Job done, we got back on the road to Fairbanks.
Just short of our target we found ourselves in North Pole, Alaska. Of course we had to stop to say "hey" to Santa and to kiss his ass a bit for this coming season. That taken care of we stopped at the post office to mail some postcards and headed into town for dinner.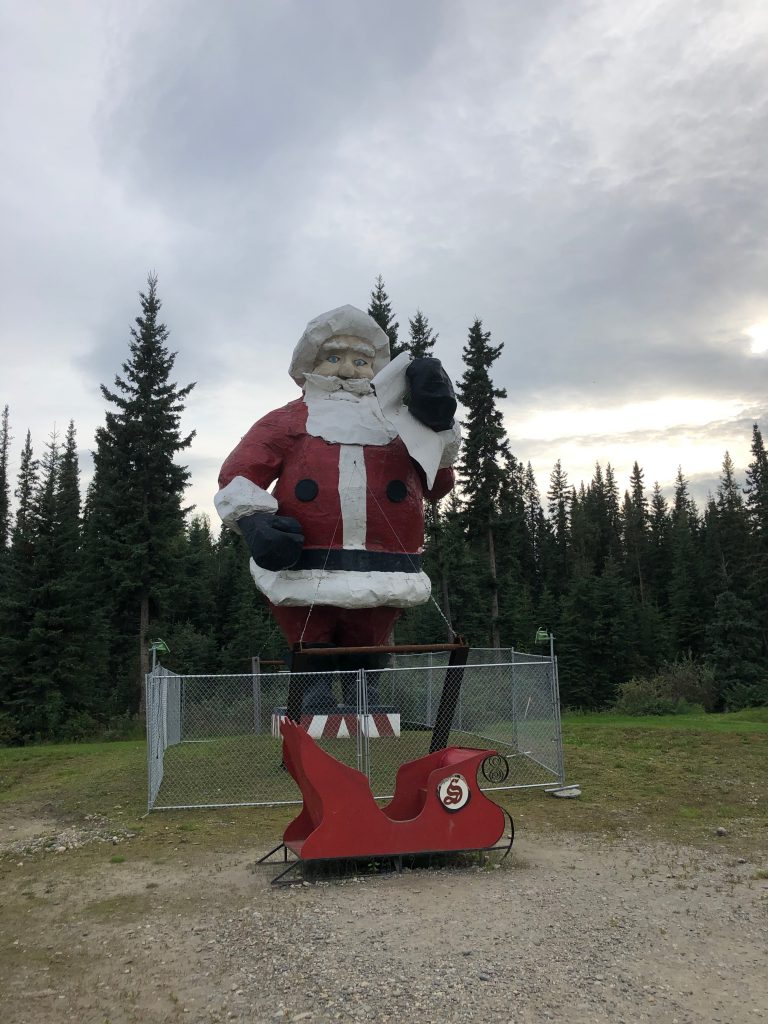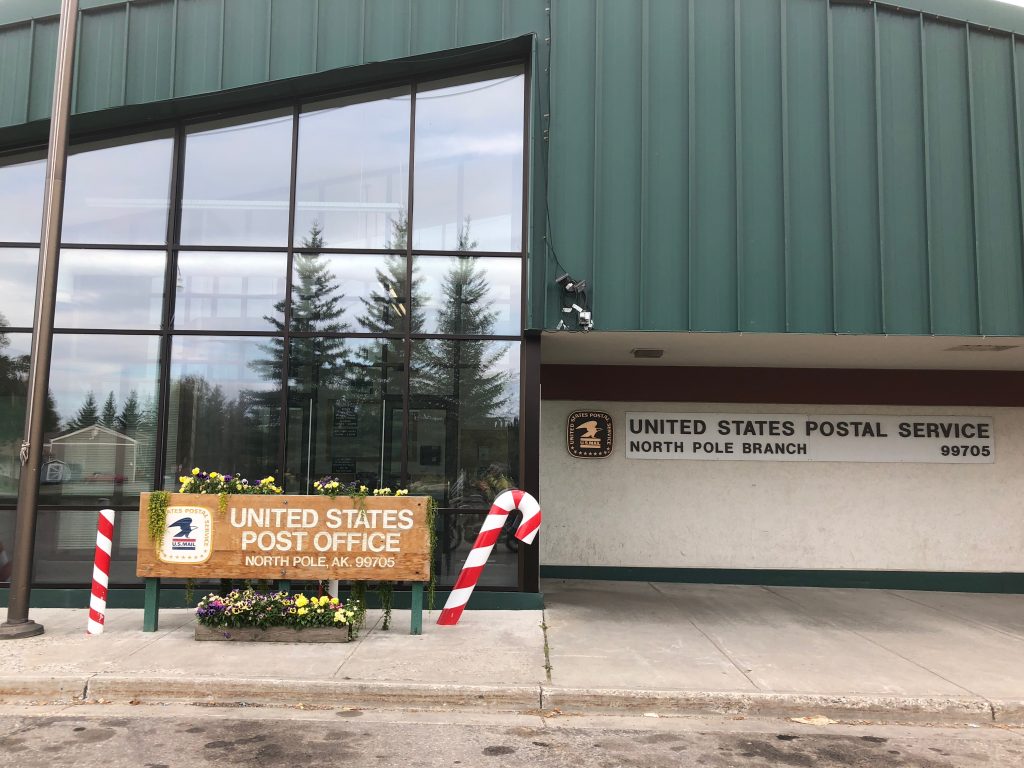 We drove straight to downtown and pulled up Yelp to find a dinner place. The pickings were slim and stuff was closing soon, so we jumped on The Chowder House and boogied on over. Bad choice. The food was meh and there was no beer to be had. Ouch. While stewing over dinner my eye wandered over a newspaper rack outside the window. Hmm. "NWS ISSUES FLOOD ALERT!" Whaaaaa? I pulled up Apple Weather and saw that there was rain predicted for the next three days (which I already knew but I hadn't looked deeper). So I went to weather.com. The weather forecast for the next few days was: "RUN!" Hmmm. "Flooding predicted in the Chena Hot Springs area, with road closures likely." Hmmmmmmmmmmmmm. "Hey Paul, what's the name of our hotel?" "Chena Hot Springs, why?"
So we chatted for a few minutes about options. We'd just ridden about 11 hours to get to Fairbanks and found it to be a bit…disappointing. The food seemed to be meh, the scenery was blah, and the sky was trying to kill us. Our minds turned to Denali and the Totem Inn. I looked it up and it was just another 100 miles down the road and the rain wasn't slated to start for about 2 hours. A call to the Totem Inn told me that there was just one room left, and it only had a full bed in it. Rollaway? Nope, due to fire regs. Couch? Nope. "Fuck it," I said, "the heart wants what the heart wants." And I booked it.
We grabbed some beer to go from a local liquor store, put on our rain gear and set out for Denali. Basically, we were racing god. And guess who won? Damn straight! We beat the rain by a good 20 minutes and got there dry as a bone. (How's that for hasa diga eebowai?) Checked in and grabbed a beer at the bar to settle in. The hotel and bar were solid, we were dry and happy, and Denali was just a few minutes down the road.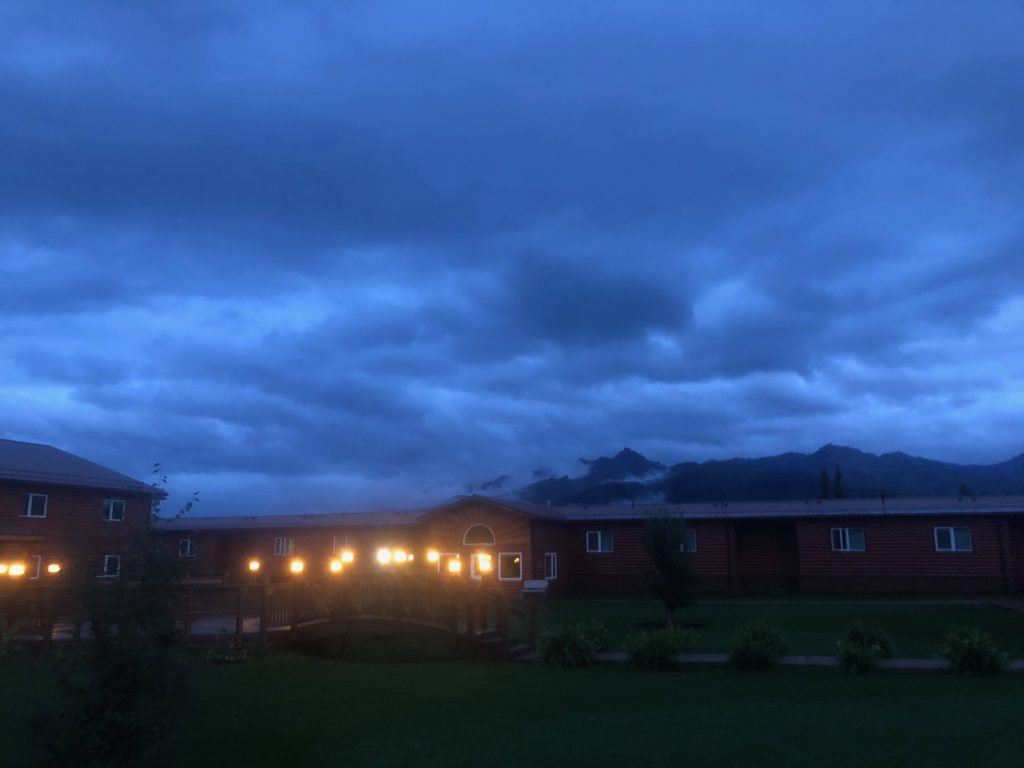 And then the front desk guy found us to tell us the best news of the day. We were in a different room than he'd thought and he was bringing a rollaway bed in for us. Now that's a happy ending we can all be comfortable with.
Starting Odometer: 36,592
Ending Odometer: 37,088
Daily Total: 486
Running Total: 4,525