This was a long damn day. Great day, mind you, but long.
At Paul's request(!), we got an early start, heading out around 7:30. I didn't say anything, but I had marked this on the itinerary as an early day months before because we had Shit To Do. It worked out, so I counted my blessings and set the alarm. We actually got up, had crappy NP coffee, and hit the road. The views leaving Zion are something else. It's a tight canyon, for the most part, so you're up close and personal with these spectacular rock formations. Next it was through a long (but be-windowed) tunnel up to the mesa level of the park. There's some more cool stuff up there, and the views open up to some spectacular vistas reminiscent of the Grand Canyon (and likely interconnects with that area south of Zion).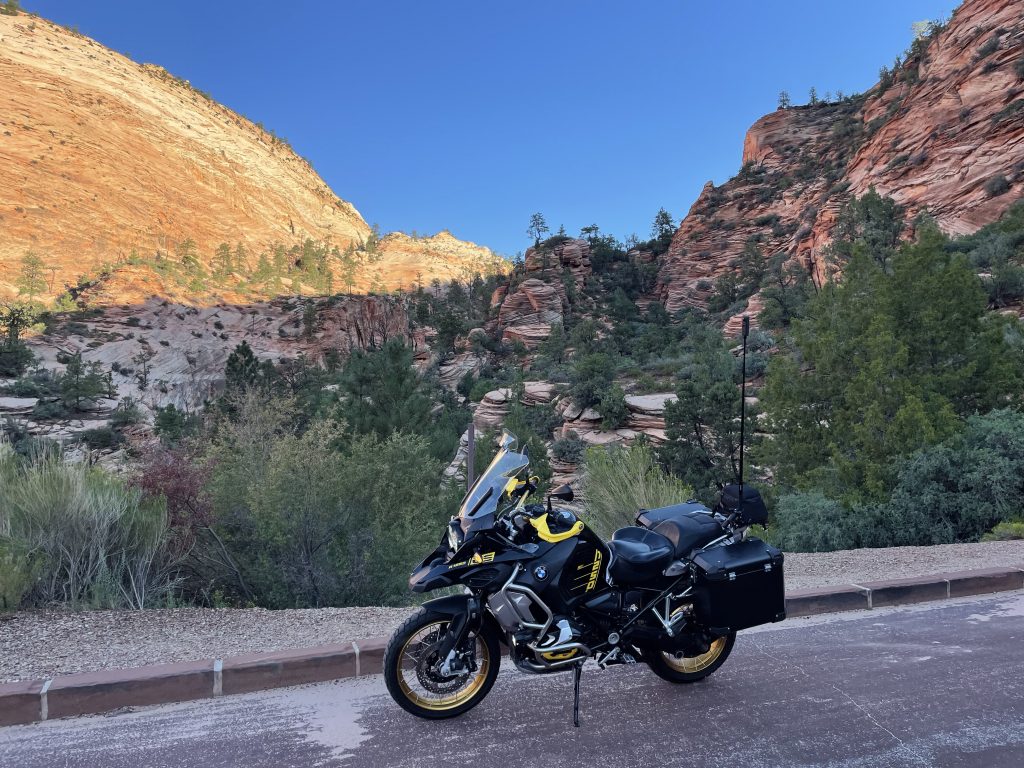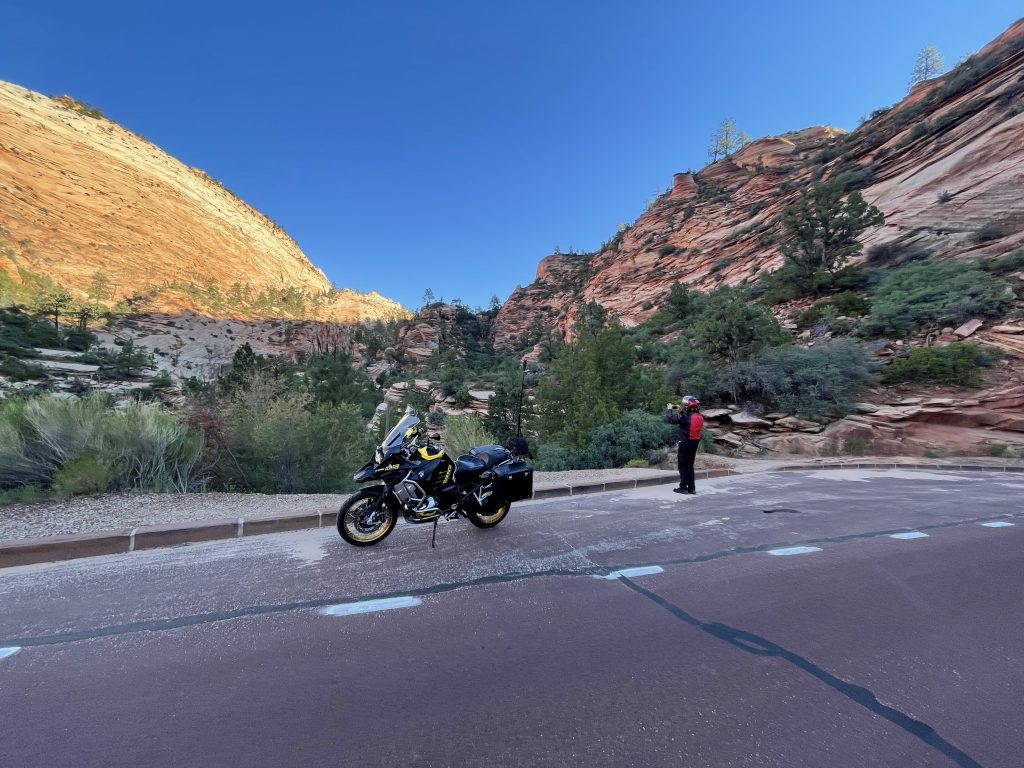 The far side of Zion NP came quicker than expected. We waited for some Aussies on a Harley Davidson tour of America(™) to take their pictures with the park entrance sign, then jumped in ourselves. And we were off and running down the Utah SH12. No, it's not winky-man code for SHIT. It's The Best Highway In The Universe. It runs from Zion to (and through) Bryce NP, then leads up to Capitol Reef. The road is amazing, the curves are amazing, and the land is beyond amazing. Incredible vistas. Red rock formations. Cool shit everywhere. I told Paul that I could be converted to religion immediately if someone were to tell me that their heaven was driving a motorcycle down this road, in this weather, forever.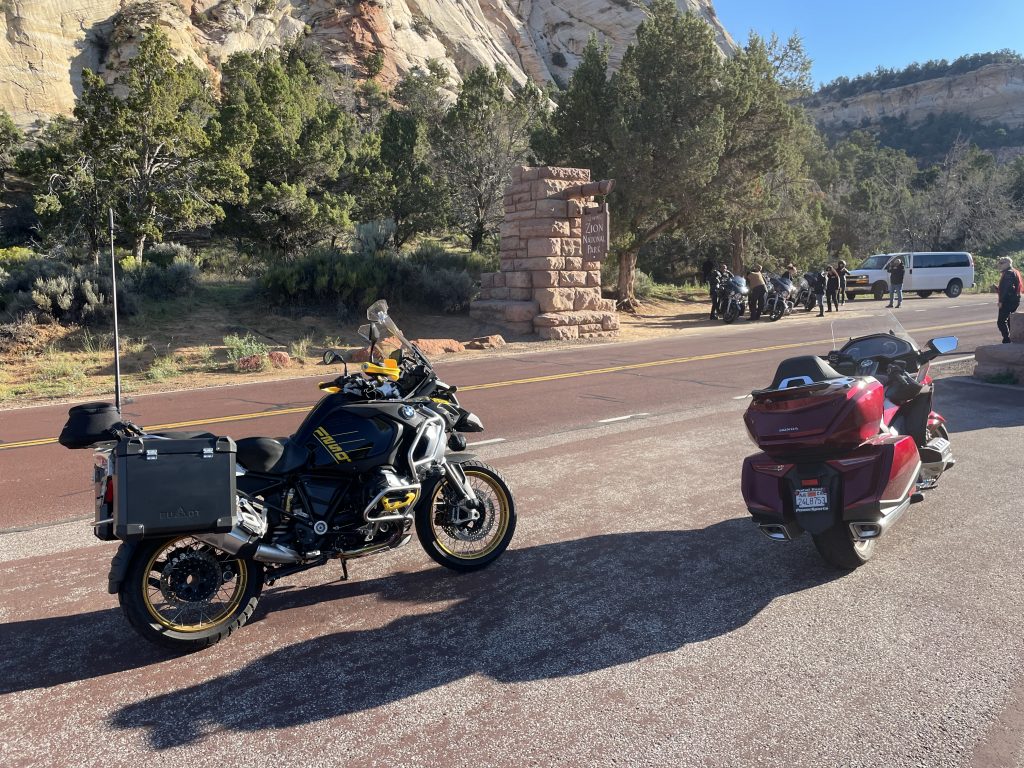 After carving through the Utah canyon landscape for an hour or two, we landed at Bryce. This is a huge park, but shares a trait with Canyonlands that they have very little car-oriented access. These parks are massive but are meant to be experienced on foot or horseback, for the most part. We cruised into the park and made our way to the closest vista point, called Bryce Point. "Must be the best view if it shares the name with the park," was my reasoning. Seems pretty likely, as things turned out. Yet another staggering view of erosion in action was our reward. I took in the view while Paul ruined countless vacations by yammering on the phone with his wife at full volume. These people were well mannered, but I'll just say that Putin would have started a war over this bullshit. (I kid. We all loved to hear about the new grandson. Hi Gail!)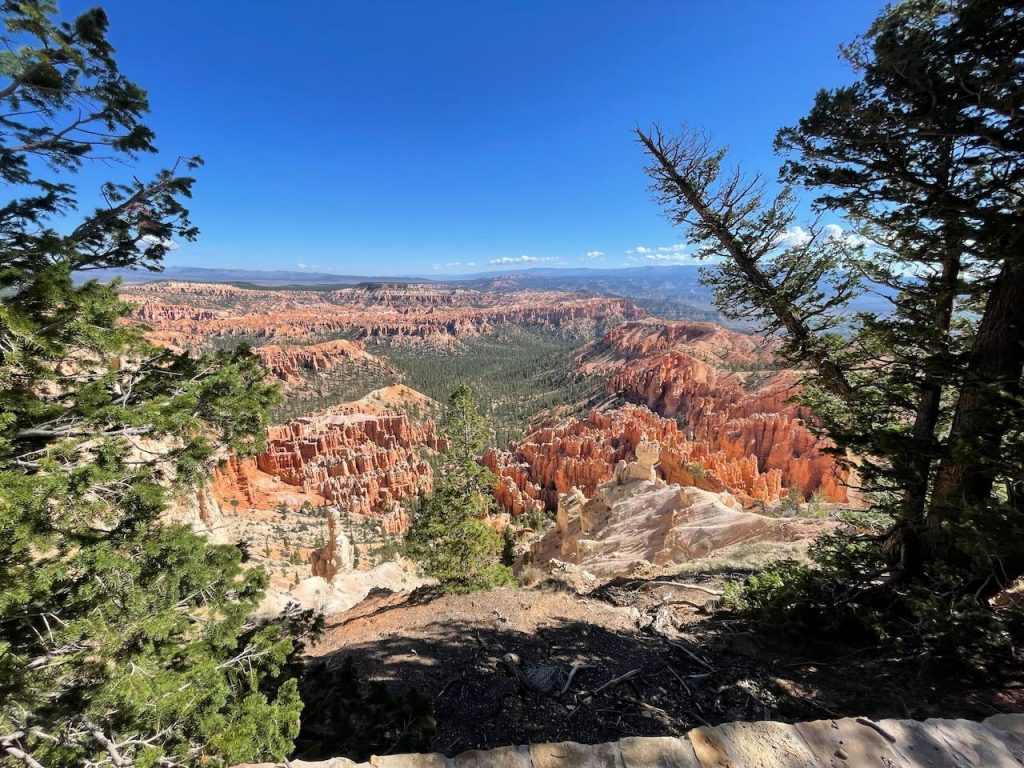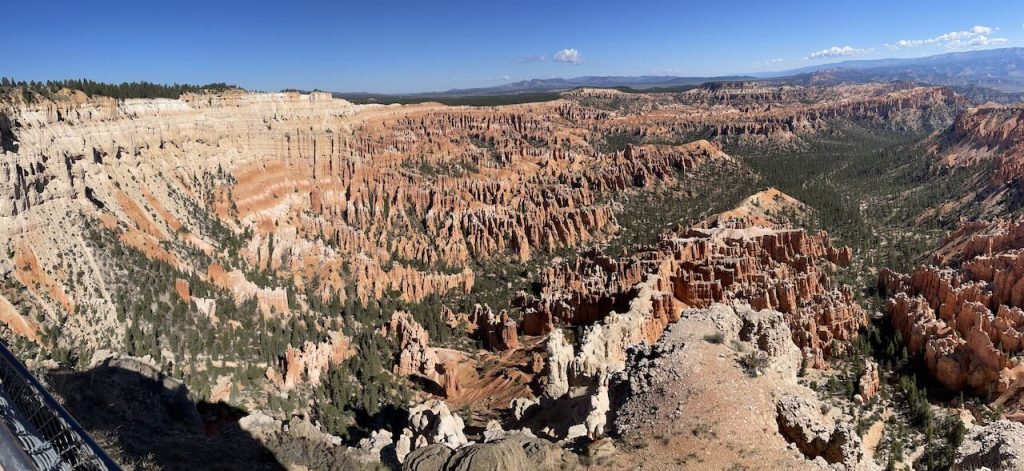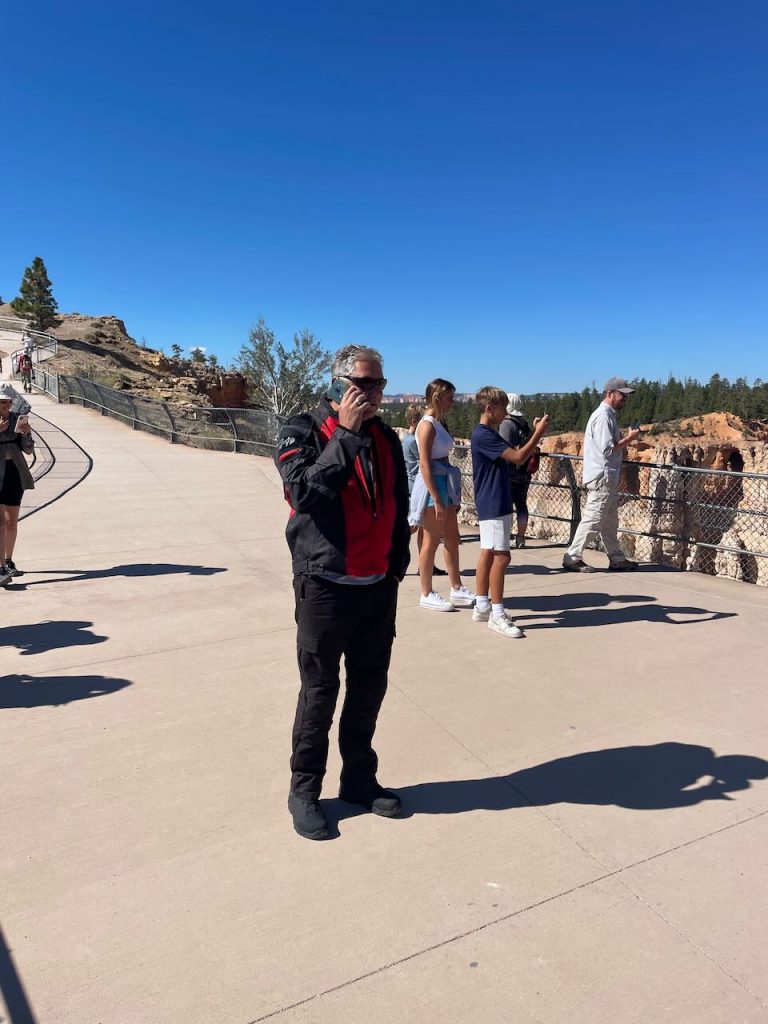 We opted out of the bottom part of the park in the interests of time, sadly, and hit the road to Capitol Reef. Yet another fantastic road was found as the 12 turned into the 24. It was about this time that Paul started squealing like a fangirl at an Elvis concert. "Use your words," I told him. "There's a bee in my helmet AND IT'S STINGING MY EYE!!!!" "Well then pull over and deal with it," I calmly instructed (while squealing like a girl, myself, on the inside). He did. "Oh. It's just a ladybug. Fly away, ladybug." I hate Utah. Even the ladybugs are aggressive and bitey. Allegedly.
On the way to Capitol Reef we road along the Escalante Grand Staircase (or some such). Basically a highway that cruises the crazy canyons and formations between Bryce and Capitol Reef. There is (shockingly) a long story about some Mormon pioneers that experienced hardships along this route. I suspect that description covers pretty much every place in Utah at this point. But it's pretty as hell, and a nice road to boot.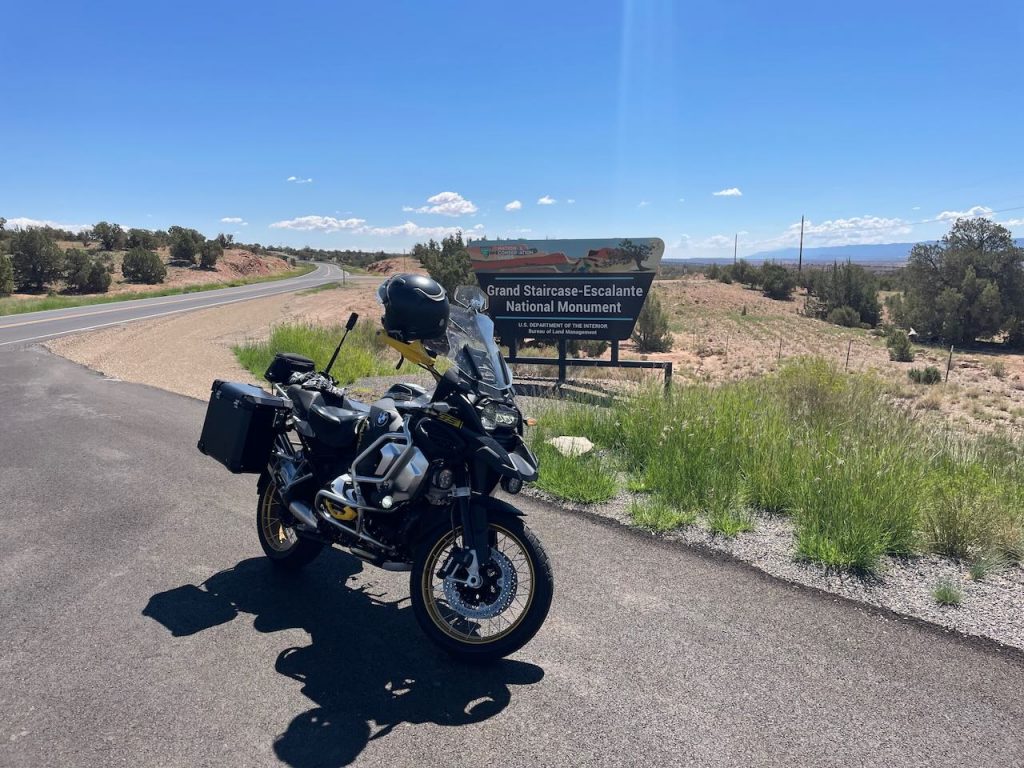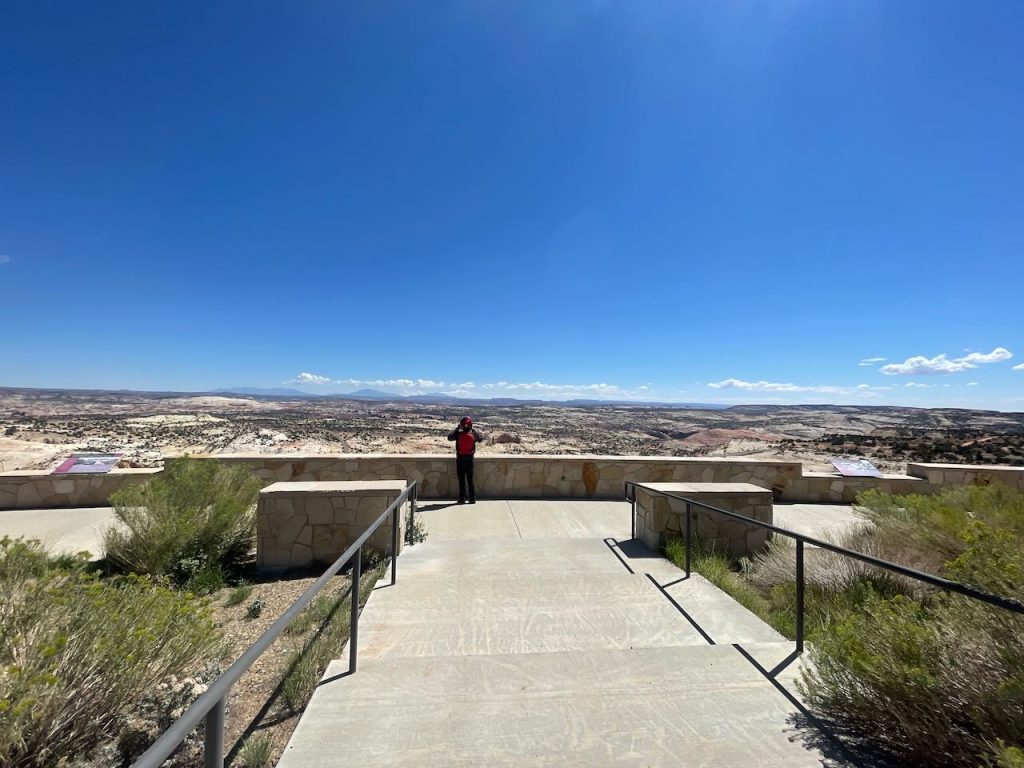 After a brief sojourn at a construction flagman, we proceeded to Capitol Reef NP. We stopped for a quick bite in Torrey, just outside of the park, then headed out due east. The highway itself seems to cut a bit through the park, but we pulled off into the actual day trip area. We unfortunately missed a pic with the sign, due to the aforementioned construction. The road enters at the visitors center, which we bypassed, then cruises through several old Mormon pioneer homestead ranches. The orchards were still producing, and several of the buildings seemed well preserved. As we rode deeper into the park we passed the campground (which seemed fairly well occupied at this time of year) and found the entrance to the vehicle loop way at the back of the day use area. We rolled past the signage and down a 10+ mile glorified goat-track roadway along the base of several of the park's mesa formations. Even after Zion and Bryce, the rock formations were breathtaking and weird. Everything from seemingly carved pillars, to melted rock, to frozen waves, and even standing stones that looked like petrified trolls and goblins. It was pretty magical, all the moreso because of the virtual lack of visitors in the park. We made it all the way to the end of the road and looped back. I had to keep shooing Paul along, as he wanted to take pictures at every turn. We've finally found a new fetish to replace glaciers. Paul is now an unabashed rockophile. I worried about his ability to control himself at Arches. (Spoiler alert: He couldn't.)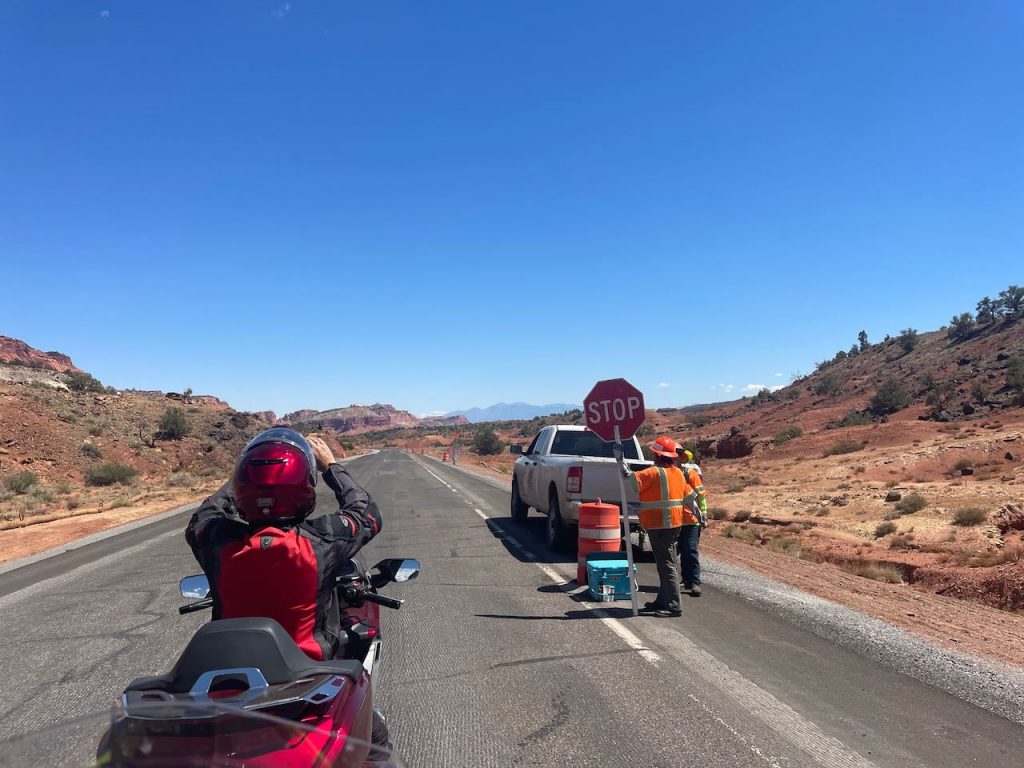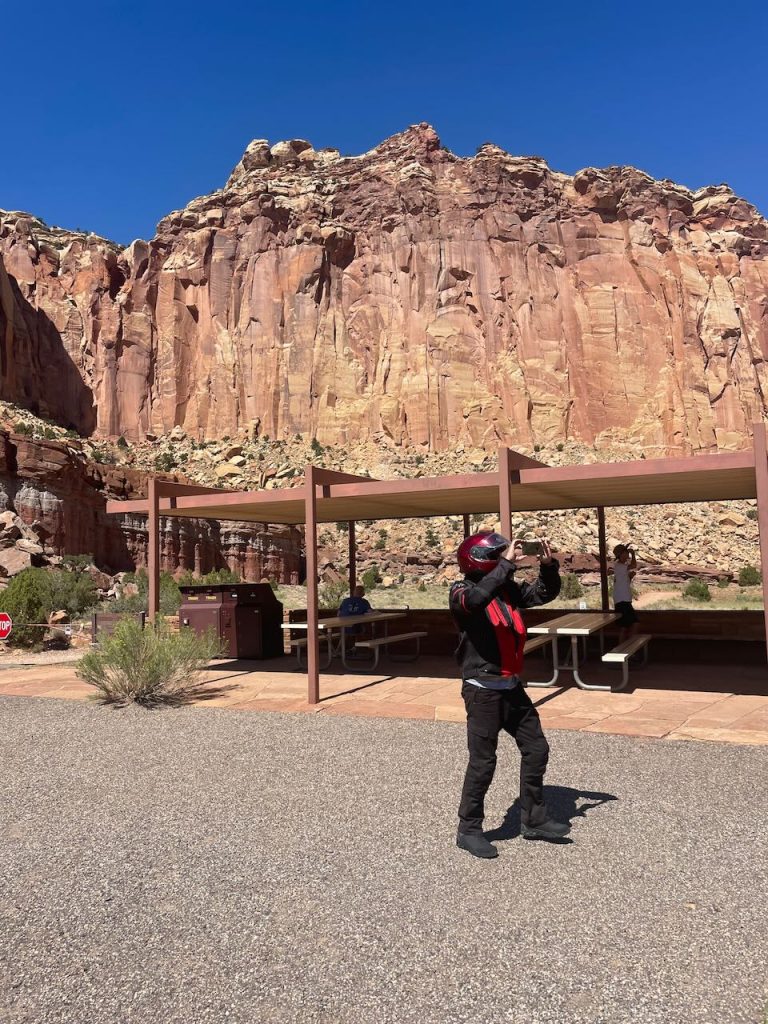 Once back on the 24 and headed up towards a brief blast down the interstate towards Moab, things quickly got a bit gray. Like really gray. All around. Gray rock. Gray sand. Gray dust. Gray land. Gray road. Lots of gray. So. Much. Gray. We were winding down from a long day in the saddle, and the next 80 miles or so were a bit of a slog. Regardless, we were buoyed by the thought of a quick trip into Arches and then a beer in Moab. We stopped at the freeway exit to Moab for some gas for Paul and some water. The temperature had stepped up once the gray set in, and we were getting pretty cooked.
Then a quick run down the state highway towards Moab took us first past the turnoff to Canyonlands NP. I knew Paul was nearing his limit for the day, so we cruised past and took a left into Arches. I discovered that we were late for my timed entry pass, but it didn't matter because timed entry had already ended for the day. Win. Plus, there was no line. Double win. In we went with an eye towards just a quick skim through the park to get a taste before we set off for dinner. Paul's lust for new stone put the kibosh on that plan. We stopped at an early viewpoint to look at the Three Sisters and the Courthouse formations, then motored on to the Balancing Rock. Cool, yes. Worth a stop at this point? No. Did we stop? Yes. Paul was nearly panting with desire for long, stiff, hard rock. I talked him down and got him back on the bike and we struck off to see some actual arches. Down a quick side road and there they were. Gaping. Open. Available. Inviting. I gave Paul some time alone, but his needs were quickly sated and we debated our next move. Ultimately we opted to complete the one-way "loop" and went another 10mi or so into the park, but I was able to keep Paul on task and we just enjoyed the impressive scenery at speed.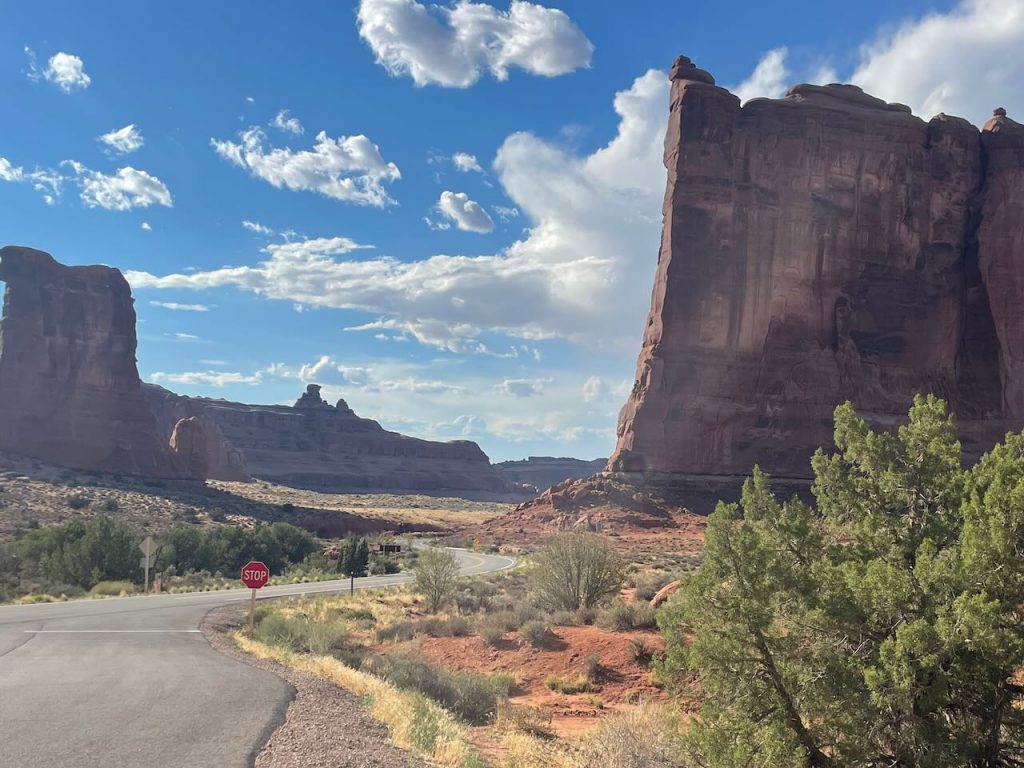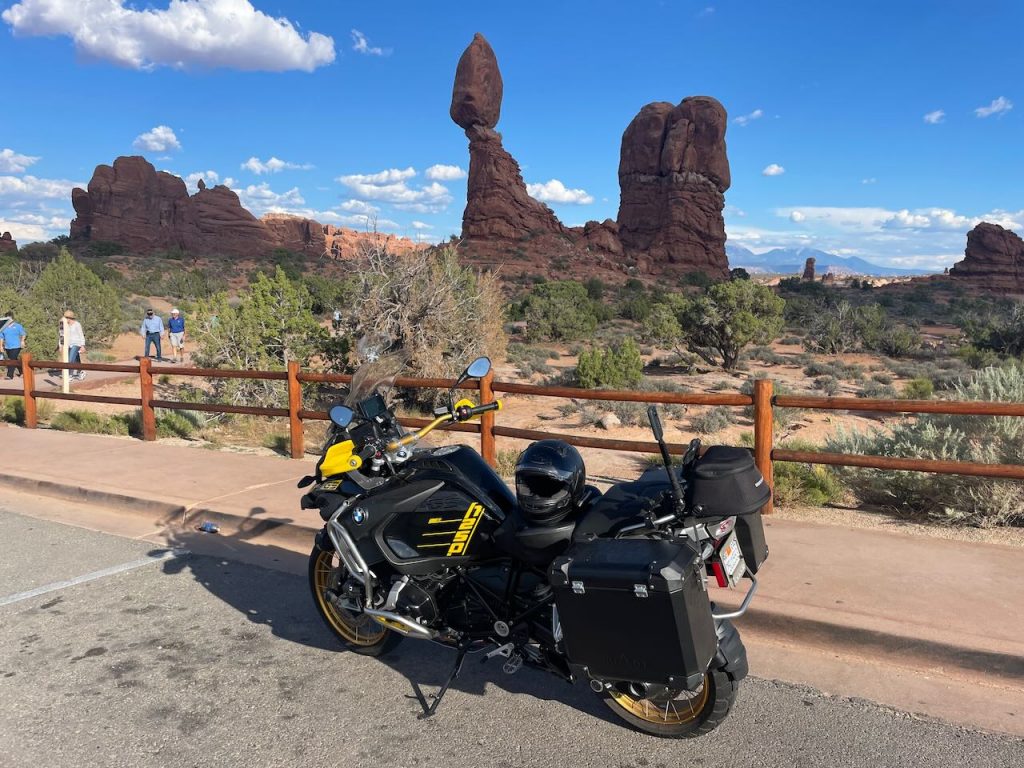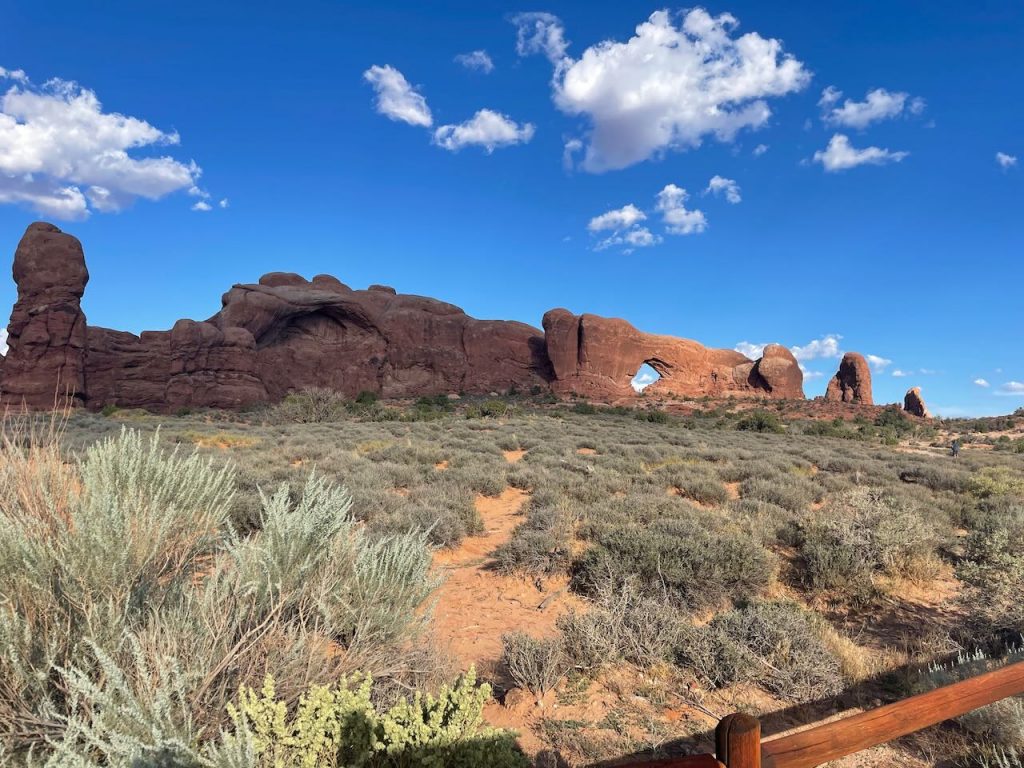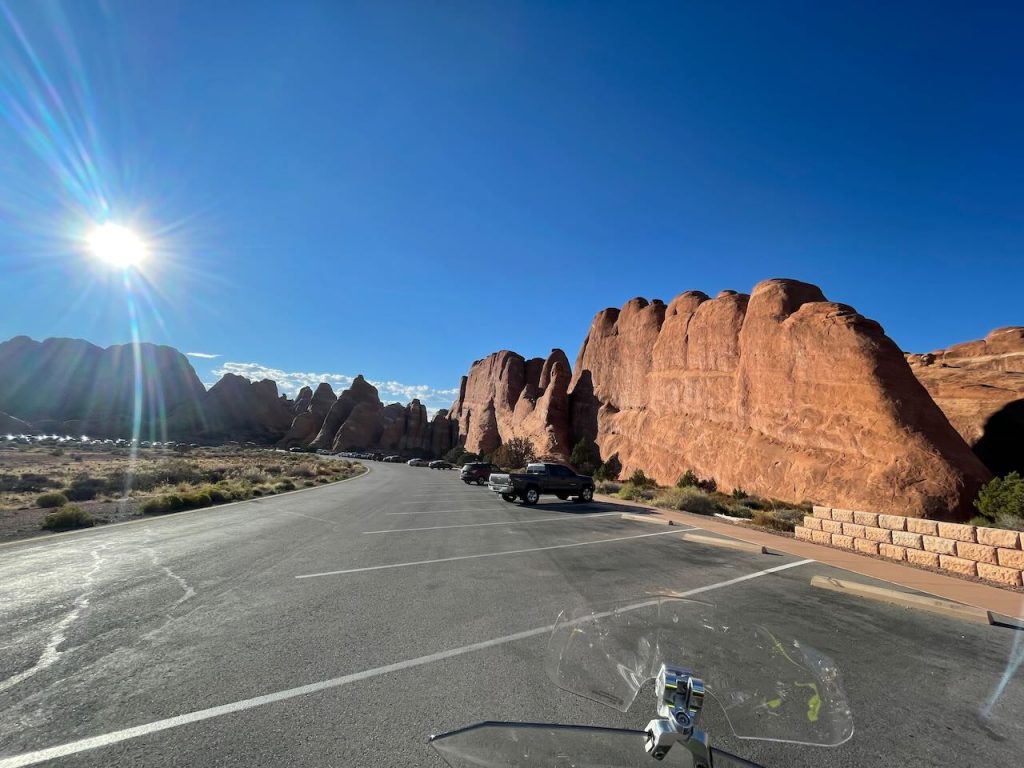 We left the park and drove the last few miles into Moab. The town was still digging out from the floods, which had left a layer of dirt (that is, dust) and mud everywhere. But most of the businesses seemed to have recovered quickly. We got off our bikes about 12 hours after we'd gotten on in Zion. Twas a long day. Yelp wasn't turning up much in the way of food options, so we decided to have a beer while we checked things out. We ducked into a dive bar just up the road from the hotel and had a (cheap) good pint while we sorted shit out. It was difficult to focus on food, though, as we kept getting distracted by the heavily pregnant lady that was plowing through jack-and-cokes like she was about to give birth to Dean Martin Jr. We left before we got sideways of the locals and had an okay pizza just down the block. With an eye towards an early start for me, we headed back and called it a relatively early night.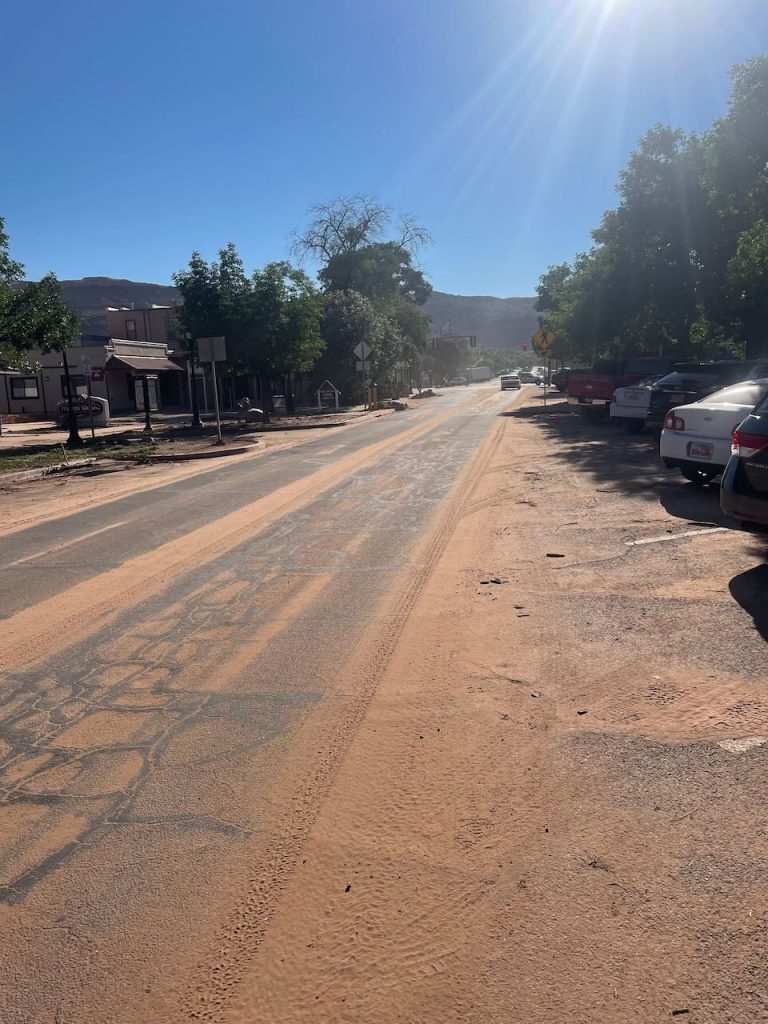 I'm editing this to add some final excitement for the evening. Paul announced that he had Left His Tablet In Zion! I'll admit to a certain satisfaction, having been the idiot who lost his wallet in the Yukon a few years ago. He was in a panic, though. I had to talk him down as he wandered in circles. He got out his phone to use "Find My Google" or whatever it is for android users, but then forgot why he had the phone. Then he searched every item he had out. Then back to the phone. Then the bike. At my urging, he called the Zion Lodge, but they hadn't seen it. He asked for the manager so he could demand a more thorough search. As he was waiting for the manager he paused, then sheepishly folded back the comforter on his bed. Revealing the long-lost tablet. He quietly hung up the phone and then worked on his tablet in silence while I mercilessly mocked him until we both went to bed. Some say that Zion Lodge kid is still looking for that tablet to this day. I guess we'll never know.